Upcoming Bouts
CFRG All Stars vs. Classic City
CFRG Black Harrts vs. CDD Belmont Bruisers
3/5/2016
CFRG All Stars vs. Derby City
4/16/2016
CFRG All Stars vs. LCRG
5/7/2016
SEE ALL EVENTS>>
BUY TICKETS>>
Featured Skater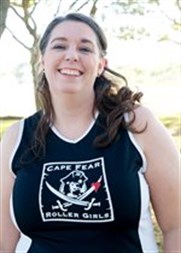 Position: Blocker
Skating since:
Favorite Derby Moment: I have had a few that are pretty memorable. Having DVS Dicer from FSCRG tell me to "use the junk in my trunk and hit somebody!" Also, passing assessments and making the CFRG team was exceptionally memorable for me. I had worked so hard and for so long, I felt, and still do, an amazing sense of accomplishment at making the team. I have to say, my FAVORITE derby moment was probably during the 2011 PSRG "Cruel Summer" invitational when I was skating alongside fellow CFRG Bullet La Vulva and, in the last jam of the game, B la V stall blocked the Jammer, PSRG's KIllie Nelson, and I hit Killie, sending her flying out of bounds. She got up and we did it all over again. Twice in a row; it was amazing!!
READ MORE>>
★ Next Home Event ★
★★★★
CFRG All Stars vs. Classic City

★★★★

vs
CFRG Black Harrts vs. CDD Belmont Bruisers
★★★★★★★★★★★★★★★★
BUY TICKETS NOW
Support Us!